Why Choose Us For Your Fence?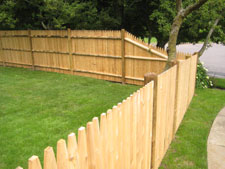 Our superbly crafted fences make outdoor living a beautifully safe and secure reality. We combine artistry and practicality to create a space that will surely become THE gathering spot for family and friends.
Wise Investment
Everyone wants a home with a beautiful fence-but not just for present-day enjoyment. It's a great amenity to feature when you're ready to sell and it's always highlighted in property descriptions. Real estate experts say outdoor living spaces are big attractions today because they expand a home's living area and also allow for escape, relaxation and entertaining. Who can argue that these investments need to be protected?
World-Class Craftsmanship
Many contractors are custom fence builders in name only. It's listed on their business cards, but it's not really a specialty like it is with us. Our reputation for quality and attention to detail is truly second to none. Our crews are skilled at creating any style of the most desired and popular fences and enclosures you have in mind.
No matter how you live… in a rural farmhouse, a suburban split-level, a bungalow or urban townhouse… fences can give you the added security and investment that helps you sleep at night.
Take the first step. Call Post and Rail Fence Company for a free consultation.